Sharp Objects
by Gillian Flynn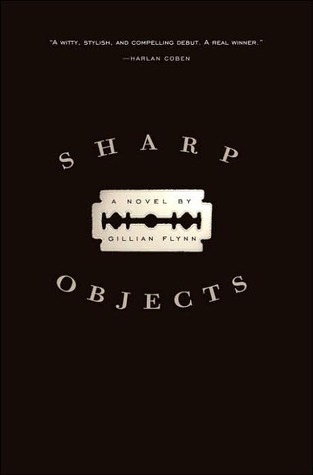 WICKED above her hipbone, GIRL across her heart
"Words are like a road map to reporter Camille Preaker's troubled past. Fresh from a brief stay at a psych hospital, Camille's first assignment from the second-rate daily paper where she works brings her reluctantly back to her hometown to cover the murders of two preteen girls.
NASTY on her kneecap, BABYDOLL on her leg
Since she left town eight years ago, Camille has hardly spoken to her neurotic, hypochondriac mother or to the half-sister she barely knows: a beautiful thirteen-year-old with an eerie grip on the town. Now, installed again in her family's Victorian mansion, Camille is haunted by the childhood tragedy she has spent her whole life trying to cut from her memory.
HARMFUL on her wrist, WHORE on her ankle
As Camille works to uncover the truth about these violent crimes, she finds herself identifying with the young victims—a bit too strongly. Clues keep leading to dead ends, forcing Camille to unravel the psychological puzzle of her own past to get at the story. Dogged by her own demons, Camille will have to confront what happened to her years before if she wants to survive this homecoming."
-from GoodReads.com
My Review:
Not for me…
(spoiler warning)
(multiple spoilers from Gone Girl, Dark Places and Sharp Objects)
Normally I love Gillian Flynn's books, but this one didn't do it for me. Like all of her books (that I've read so far) it touches a lot of really hard subjects. Like for instants there's a moment where the lead character cuts herself and masturbates. (A little disturbing, I know) And I know that this kinds of things are normal in her writing. But to be honest I don't like reading stuff like this (I think no one those, I don't know).
I know, I know, you are probably thinking "this shouldn't be new to you if you read Dark Places and Gone Girl" and you are right. But I did skip a lot of the really "hard to read" parts (like in Gone Girl when Amy has sex with the guy who's name I can't remember and kills him in the process or after I don't know) I skipped all of that and other parts. But this one for some reason didn't grab me enough to skip and keep reading.
So no, I didn't finish this one, and for now I don't think I will. I still love her books I think Gillian Flynn is an awesome writer. But this one didn't do it for me. I don't know.
Read it if you want.