Harry Potter and The Cursed Child Book Talk. I'm not doing a "review" of this book because I loved it and I think it was just perfect. Despite what other people could say. I'm actually hoping they bring it to Broadway. Oh well, fingers crossed.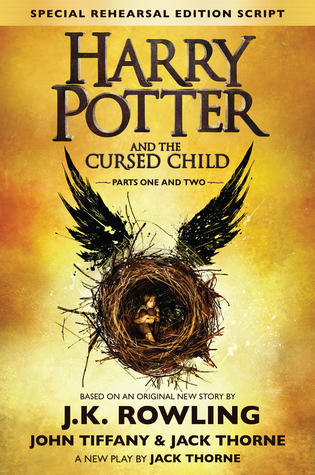 Anyways let's talk about it, because beside the nostalgia of such an epic story being brought back to life, for one last time (for now) there were some pretty-weird-but-I'm-definitely-okay-things with this book/play.
Keep in mind, before you go on that this book talk is full of spoilers. This is my clear warning of spoilers.
Spoilers
not kidding
actual spoilers
You've been warned!
The book/play starts right where we left them the last time. Kings Cross station 9 3/4 leaving their kids on the train to Hogwarts. Is Albus first time at Hogwarts and he is worried about the house that he'll end up in. Fast forward he ends up in Slythering. Harry is having problems with him and some stuff happens.
This book fast-forwards a lot of info that lets you know how distant Albus grows from Harry Potter. Many times Harry tries and fails to connect with Albus. Obviously not having an actual father figure growing up Harry struggles to do his best with Albus.
Albus is best friends with Draco's son Scorpius, who is actually a really good kid.
There is a scene where Albus and Scorpios are trying to jump from the Hogwarts train and the candy lady becomes this weird monster thing. That scene felt completely unnecessary and like something that Percy Jackson would fight. Also I think Albus got away from that situation way too easily considering that the Weasley twins apparently couldn't. That actually seems unlikely.
The rest of the book is just freaking awesome. Fill with nostalgia thanks to the momentarily resurrection of Snape and the momentarily death of Harry Potter and Nevil.
Draco gets a chance to look good in this book. Something that I think he needed although his life is still hard. But he has a great kid.
Also that reminds me of something very important and powerful that this book has and sometimes gets ignore. The sorting hat. What the hell is wrong with that freaking hat. I think that hat should retired, because its a little bit judgmental and prejudices over Scorpius. I don't think Scorpius was a Slytherin, he was clearly from Ravenclaw, Huffelpuff or maybe even Gryffindor. But not Slytherin. That could be the way of JK Rowling making sure to tell that not all of Slytherin is bad. Maybe that's her way of giving Slytherin a chance of redemption. Albus was always a Slytherin with a little of Gryffindor.
This book is not perfect. This is not an exclusive JK Rowling book. There were other people working on it and it shows. But nonetheless I loved it. I think is something beautiful to add to the series.
I understand why some people don't like it. I get it. This book was wayyyyyyyyyy over hyped. The expectations were extremely high, obviously. Which was something that made me super nervous. But in the end I think it was just great. And I'm hopping to see this in Broadway like it was meant to be.
This was definitely a really messy book talk. Oh well.