A Shade of Vampire
          By Bella Forrest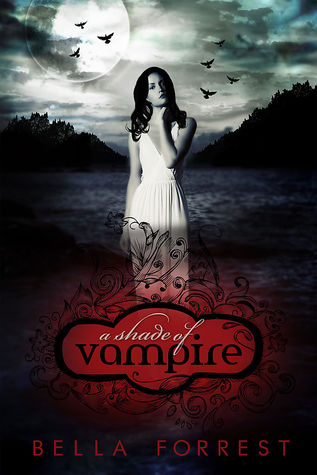 On the evening of Sofia Claremont's seventeenth birthday, she is sucked into a nightmare from which she cannot wake.
A quiet evening walk along a beach brings her face to face with a dangerous pale creature that craves much more than her blood.
She is kidnapped to an island where the sun is eternally forbidden to shine.
An island uncharted by any map and ruled by the most powerful vampire coven on the planet. She wakes here as a slave, a captive in chains.
Sofia's life takes a thrilling and terrifying turn when she is the one selected out of hundreds of girls to join the harem of Derek Novak, the dark royal Prince.
Despite his addiction to power and obsessive thirst for her blood, Sofia soon realizes that the safest place on the island is within his quarters, and she must do all within her power to win him over if she is to survive even one more night.
Will she succeed? …or is she destined to the same fate that all other girls have met at the hands of the Novaks?
My Review: (This is my first review ever) (It's old)
loved this book, can't wait to read part 2. The story was really great. And the fact that it alternate Derek and Sofia made you enjoy it more. Plus the plot is really interesting.
New Comments on it:
It's been so long since I first read this book. wow. I don't remember everything about it, but I do remember some plots and the world. I loved and still love the world of this book. I think this is one of those books that suffers from lack of promotion. I know now that there are like 30 of them, I think I'm not sure. The story has gone wayyyyyyyy long. I'm not sure if I'll read them all right away, but they are in my tbr list.
By the way, this was the first "ARC" I have ever gotten from an Author. Thanks Bella Forrest and people that work for her. You guys were the foundation of me becoming a book blogger. Thanks for letting me in to the world of the Shade. You guys are awesome.