Me Before You
By Jojo Moyes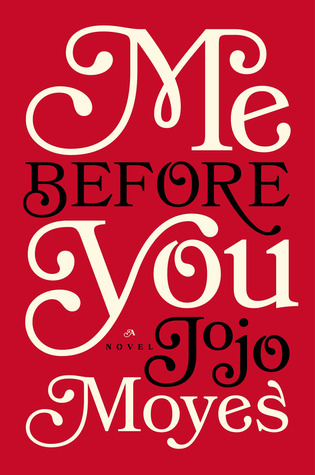 Why?? Why freaking why?? (sobs intensively)
OMG!
Louisa Clark is a normal 26-year-old who loses her job and during her job hunt comes across the job that will change her life. Will Traynor is a successful 35-year-old whose life changes when a terrible accident leaves him tied to a wheelchair. How this 2 collide? Well, read the book and you'll find out.
Here's the thing, when I first grab this book I had no idea it would make me cry as much as it did. This book has such a beautiful love story that will make your heart melt. It also touches some really controversial subjects that for me in particular were really frustrating (lack for a better word). I'm not going to say what is the controversial subject for spoiler reasons but I will say this, although the book made me think more of the reasons for such thing I'm still against it. Having that said, this book was freaking awesome. I enjoyed it so much. There love story is great and the characters were so awesomely develop. The plot was really good and easy to follow. It kept me interested and I finished it pretty quickly. I'm not a love-story-reader, but sometimes when I come across this books I can't help myself. Especially if they turn up this great. I had the worst book hangover ever when I was done. It left me feeling so broken.
The characters are so relatable, specially Louisa, at least for me (I'm a 26-year-old). And by the way finding such a great and interesting book that the characters are 26 and 35 is just priceless. (if anyone knows about books like this let me know)
I'm the type of person that obsess sometimes about little things but I have to say this (I'll try to leave spoilers out) when she says something important to him, even though you can feel him feeling it he doesn't say it back. It got me wondering if that was just because of his circumstances, personality or maybe he just wasn't there. I don't think is the last one but anyways that was something that really got me thinking.
Anyways I extremely recommend this book is really awesome. And the movie comes out this weekend and I can't wait. There's a sequel to this book call After You that I'm definitely going to read.
By the way the cast for this movie is just perfect.