The Rest of Us Just Live Here
By Patrick Ness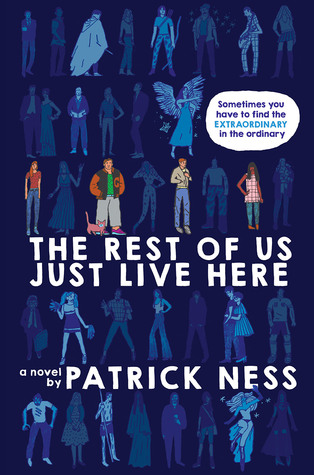 This book is about the background people in every adventure. The people that no one notice, but have to go through their everyday lives in spite of the vampires, ghost, zombies or whatever else is happening. Every chapter starts with the adventure the "indie kids" (that's how the book calls the heroes or chosen ones) are having. It talks about a lot of "controversial topics" that, to be honest, it felt kind of force sometimes.
I have to be clear on this because sometimes people think that just because you read or maybe like a book it means that you agree with everything that it says. And that is just not true.
Having that clear up I'll follow with this I kind of like but at the same time I don't like the book. Okay, I think I'm more in love with the idea. I like the concept and when this book fell in to my hands it looked really promising. But for some reason It felt disappointing and forgettable.
It was kind of annoying at some points. I wanted to know what was happening to the indie kids more than I wanted to know what was happening to the protagonists. And what the hell with the message of this book, well, one of the messages it brings, that you need to have sex with someone to figure out that you only want to be friends. What the hell?
If you really want to read this book I recommend an audiobook, because at least for me if it wasn't for the audiobook I wouldn't have finish it.
I wouldn't recommend this book to high schoolers I think that most of the subjects that it touches should be read with caution by a more mature audience. You can read it if you want but is not something I would recommend. Definitely not my favorite read of this month.