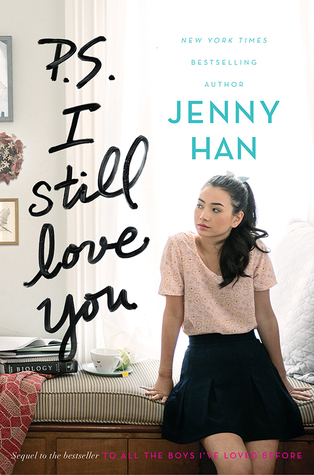 P.S. I Still Love You
          By Jenny Han
Okay. Just finish the sappy book's sequel. Yayyy. My thoughts? Well. Not great.
          Lara Jean and Peter have fallen for each other after pretending, but things get sour so they end up almost breaking up. (or they do, I don't know. I don't even remember anymore) Anyways, things start to get even more complicated when another boy appears (the UN guy) and old feelings start to re-appear. After undone things get resolve, well… some of them, things turn into cyberbully or something like that.
My feelings while reading it:
 – skeptical
 – annoyed
 – stupid
 – are you kidding me
 – finally
 – okay?!
 – interested
 – frustrated
 – disappointed
 – wants to burn book
           First of all, it's just not my kind of book. You already know that, if you read my review on the first book. It is really sappy. It takes corny and stupid to a whole other level. Seriously. This book it's really hard to read. There is no character development. It feels like she gets younger and immature by the minute. I never thought that a character could be more annoying as the series progress. But I had to know what happened next. So I guess it had that going for it. Is not that it hooked me but it did make me read it. Secondly it's too childish. I get the whole thing about it being a story of a high schooler. But wow (yeap, no words). The plot is really stupid and pointless.
All though I really liked the game they played. You see they have this reunion on a tree house that is going to be torn down and that they used to play when they were little (by they, I mean her and her old middle school friends) there they decide to play tag for old time sake. But their version of tag looks really fun. They write their names on small pieces of paper (empty ice cream box I think) they mix it all together and each take one. They have safe zones but basically they spend days tagging and searching for each other. I think it looks fun. That was the thing that kept me reading/listening to this book.
            Overall this is not my type of book but I can clearly see teen girls enjoying it. I think I'm just too old for it. hey, it happens.