Lair of Dreams- A Diviners Novel
By Libba Bray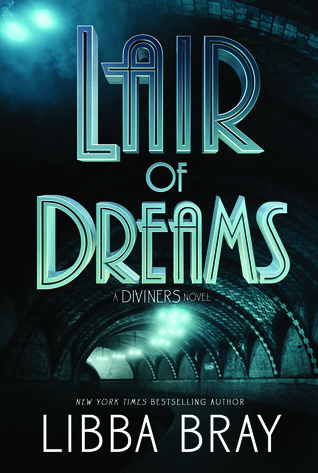 Mysterious deaths have been turning up in the city of New York, victims of an unknown sleeping sickness. Now it's up to the Diviners to solve this case and catch the killer.
– From GoodReads (I think, I don't really remember. But I know it's from somewhere.)
"Beautiful Dreamer, wake unto me/ Starlight and dewdrops are waiting for thee…"
-From The Book
Yeap. Another song to hunt me in my dreams. And this one is even worst, because it literally happens in dreams. No idea what's up with Libba Bray and songs. (love her)
This book starts with the first fallen victims, there we get introduce to the killer/thing that's causing this. Well, it actually starts with how the killer/ thing comes out. Like the first book. (The Diviners)
"The song calls to their blood, ferries them into the best dreams they've ever had-dreams in which they are aboveground, men of fortune and renown, owners of country that smiles on owning. …….. One by one, the other men sense the danger lurking beneath the beauty. It's a trap, this dreaming. In sleep, their fingers stiffen as they try to fight back against the terror invading their minds. For the dream knows their fears as well as their desires. It can make them see anything. Unspeakable nightmares surround the men now. They would scream if they could. It's no use. The dream has them, and it will not relinquish its hold. Ever."
– From the book
Like the first installment to what I hope will be a series of way more books, we get to see this incredible mystery unfold on this awesome setting Libba Bray has created. This is a historical fiction that is so well done that you feel like you are being transported back to 1927 in New York City.
It does have a little bit of a slow start but hang in there cause its totally worth it. It will hook you in. the characters are well written and their development incredible. This book gives you so many colorful characters that are so unique and relatable. It's amazing. Even if you're not going through something similar as what they are going through (not the searching for killers, but the social issues) you can easily sympathize with them. That's how great this characters are written. In this book you will also find a lot of issues like politics, disability, abuse (trafficking), racial issues and way more. I think Libba Bray is an amazing writer. If you haven't read her first instalment in this series, you should. And when your done grab this one cause its freaking awesome.
Don't read it at night, you may not be able to sleep. At least, I couldn't read it at night. Lol