Reframe
By Brian Hardin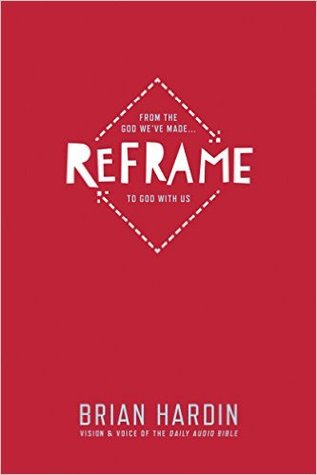 You know something that I think is really awesome about a book is that when you read the prologue you find something that shocks you. For instance, when I started reading this book I was reading the prologue and found this:
"For many, including myself for so many years, having a "relationship with God" has become synonymous with believing in God. But is this really all there is? I believe in a lot of people that I'm not in a relationship with and, for that matter, have never even met. I'm sure the same is true for you. It would seem that a relationship is more than just belief; unpacking what it's actually shaped like can be a bit of a mystery. It's not talked about that much—it's more assumed. But maybe it shouldn't be."
Isn't that confronting. Well, to me it was. I have the ongoing battle with this situation. Sometimes my relationship with Gods slips in to believing in God, and I get lazy and stop investing in our relationship. Every good and strong relationship needs time. You can't have a best friend that you never talk to. Or a wife or husband that you never spend time with. It doesn't work if you don't cultivate it. If you don't dedicate time to the relationship it won't work.
             "We're all starving for life because we're made to have it. And life can only be found the way it was designed—in collaboration with God."
-from the book
            This book is about having a real relationship with God. Digging deeper and connecting with him. There are so many dos and don'ts that people throw at each other about what they think God wants. When in reality what God wants is to connect with us, to have a relationship with us. A real relationship. To not just know him from what other people say, but to actually know him from connecting with him.
Before you go please understand that this is not just another religious book, this is something more. This book is about connecting with God the real God. Not the one made up by extremist.
This review was sponsor by Tyndale House Publishers.